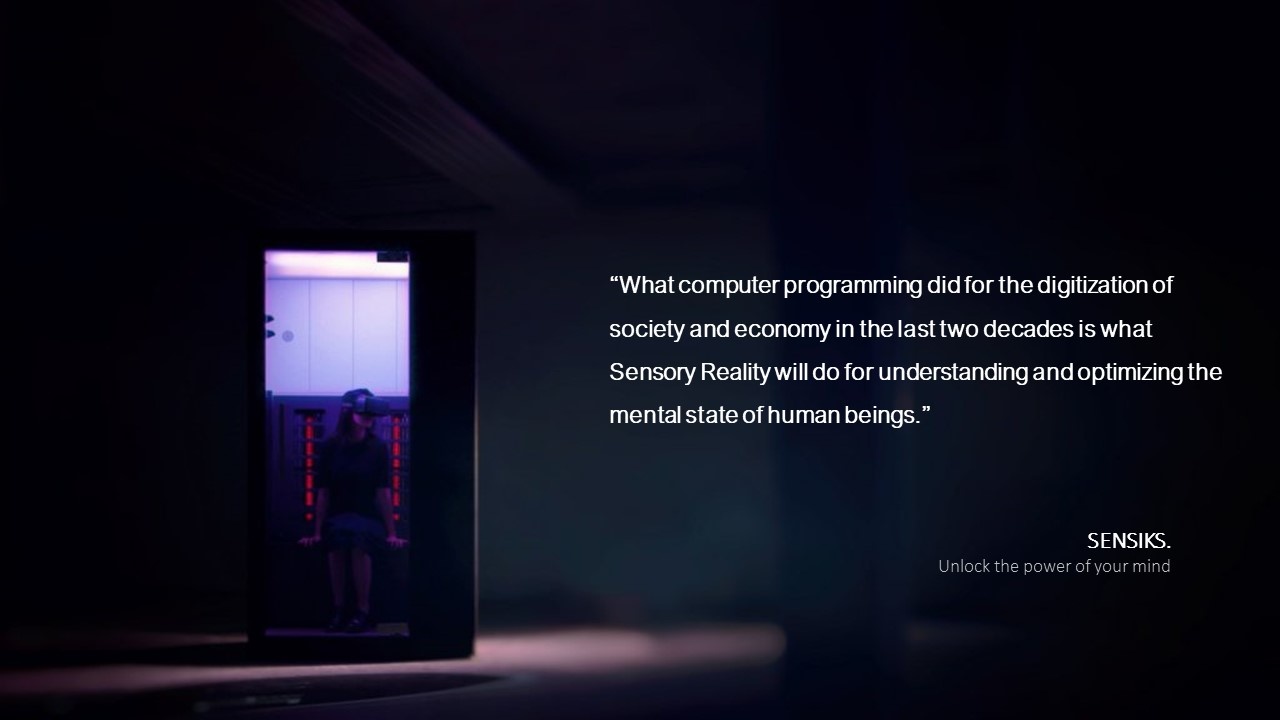 The SENSIKS organization is a dynamic and modern company, combining a centralized organization together with distributed aspects such as the creation of SR solutions and content distribution.
SENSIKS facilitates the platform for sensory reality applications, comprising out of modular multi-sensory hardware, software, and content to provide unique full immersive user experiences and solutions.
Sensory reality pods are used for healthcare, improving quality of life, PTSD, Addiction, virtual tourism, storytelling, experiential learning, employee wellbeing, research, and training.
Pod owners have access to the content library. New content is continuously added onto the experience database and is continuously growing as more and more partnerships are being formed with the content creation community.
Existing random content as well as specific new content can be programmed into SR via our editor and SDK. (plugins for UNITY and UNREAL game engine available)
SENSIKS. offers a wide variety of free to use as well as paid content to its clients.
Joined R&D is partly fueled via research grants within expert consortia.
Are you a AV/VR/Gaming content developer, sound/fragrance artist or researcher active in the field of mental health, employee wellbeing and resilience, remote monitoring, telepresence, or sports training and like to explore co-creation projects? 
Let's talk! >>
Sensiks' sensory reality pods come within a range of standard sizes but we can provide tailormade sizes as well. Integration of Sensiks SR technology within existing spaces is also within our service portfolio. Sensory reality pods can be acquired via one-time sale, rental, or within a lease construction.
 Software, warranty & content 
The additional software license includes service, warranty, and access to the standard SR content platform where a mix of free and paid content is available. Custom content can be created on request. Our ecosystem provides a wide range of possibilities for bespoke content varying from fast prototyping to high-level productions.