Earlier this year I posted about the new KLM Crown Roomlounge at Amsterdam Schiphol Airport (AMS). Check it out s'il vous plait. A few days ago I got to see the finished product. This post includes photos of areas that recently opened.
Lounge Location, Hours and Access
First, some of the basics. KLM Crown Room 52 is located on Holland Boulevard between Concourses E and F. An escalator or an elevator will take you from the concourse directly to the lounge.
The lounge opens at 04:45 and closes at the last KLM departure which is normally around 22:00.
Passengers on SkyTeam airlines in business class or first class and passengers with SkyTeam Elite Plus status regardless of the class of service are admitted without charge. Some other members of KLM's frequent-flyer program can purchase admission when capacity permits.
Latest Additions
The prior post states that the changes I saw on the first visit take this lounge to a new level. Now that the lounge is completed, that pronouncement seems like an understatement.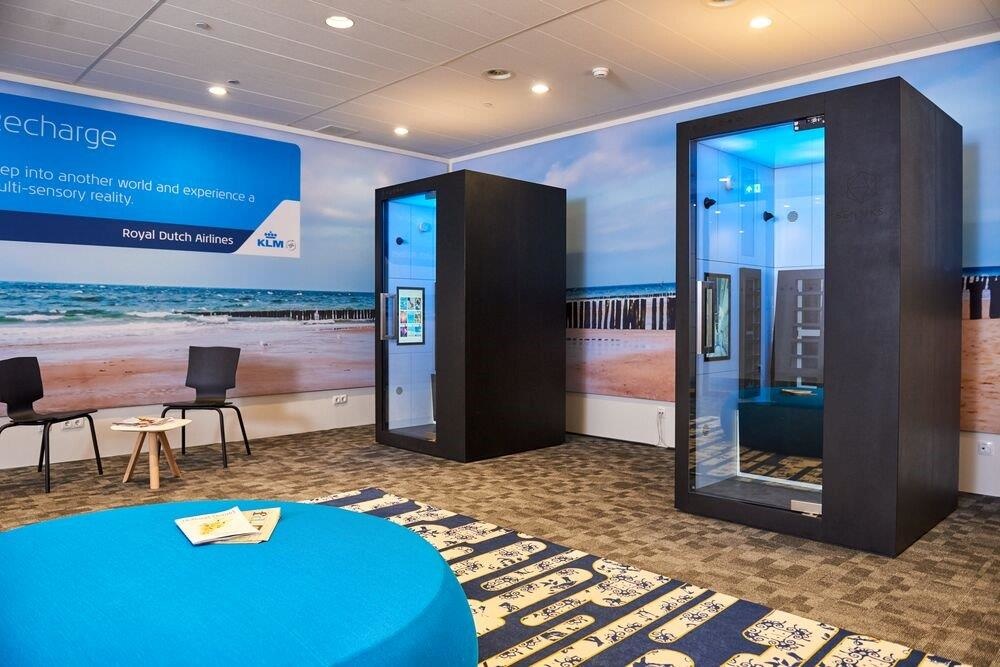 I've been coming to KLM lounges at AMS since the late '90s when Northwest Airlines and KLM entered into a groundbreaking joint venture that set the stage for other airline joint ventures that have become increasingly popular with and profitable for airlines in the last 20 years.
Then the KLM AMS lounges were some of the best in the business. Over the years, they became increasingly crowded and outdated in looks and services. With this new lounge, KLM has once again leapfrogged the competition.
Crown Room 52 is laid out on two levels. The best way to get from one level to the other is via the architecturally appealing "waterfall" staircase.
Dining and Beverages
A bar and a la carte restaurant are on the upper level. The bar serves premium alcoholic beverages for a charge. Before the restaurant opened, drinks here were free!
Blue restaurant is under the supervision of a starred chef from the famous Rijksmuseum in Amsterdam.
KLM has made big improvements in free food. Before light snacks, cold cuts and soup constituted the bulk of the menu. Now the buffet includes a wide variety of hot items as well as soups, salads and snacks.
Previously drinks were available at a self-service bar. Now bartenders serve a decent selection of complimentary non-premium beverages at the Heineken Bar.
Seating
There are seating areas on either side at the top of the escalator. All of the old seating has been replaced. The one to the left was not open during the previous visit. It looks larger than the one on the right. Altogether both sides can accommodate 1,500 customers.
Seating on the left includes recliners along the widow, armchairs arranged for singles or groups of three or four, booths, and work tables.
You get a good view of the lounge when walking from Concourse F to the main terminal. Good views in mean good views out.
Sensiks Virtual Reality Room
A new addition, and the first I've seen of its kind in a lounge, is a room with two booths where guests can experience virtual reality videos. The booths are made by Sensiks, an Amsterdam-based company that adds wind, smell, sound effects, vibration, and heat fluctuations to virtual reality videos in its sensory reality pods.
There are several videos to choose from. Most are free. I tried the dolphin experience. Put on the Oculus Rift headset and you are completely surrounded by incredibly life-like images. Except for the facts that I wasn't wet and I couldn't see my hand when I tried to touch objects, I'd swear I was scuba diving. The videos you pay for must be even better, but that is hard to imagine.
I think the word on the VR sensory reality pods is not yet out. Once people find out, waiting to use them will probably be normal.
Showers
Last and least are the showers. They were the only part of the lounge that was mildly disappointing. There are about 20 of them. That's good because this lounge can handle as many as 1,500 passengers. The bad part is shower rooms don't have toilets and currently lack hairdryers, bath mats, body lotion, shaving mirrors, or a place to put your suitcase if you want to change clothes. Some of these deficiencies are known, and KLM is considering fixes. There are a couple of unisex bathrooms in the same area, but that number is probably too small to satisfy peak demand.
Overall Impression
KLM Crown Lounge 52 is one of the largest airline lounges you'll come across. It is also now one of the best business-class lounges going. Stunning architecture, an a la carte restaurant with a starred chef, much improved buffet service in quality and variety, a plethora of comfortable seating arrangements, modern workstations and worktables, ramp and runway views, and a hip Sensiks virtual reality room elevate what used to be a hopelessly overcrowded and outdated lounge to the top of the class. Completion of this project shows just how far beyond the usual lounge renovation KLM has gone. Well done!