Kun je mensen met verstandelijke handicaps losweken uit hun verstarring of hun autistische bubbel? Ja, denkt Philadelphia, met de 3D 'belevingscabine', die alle zintuigen tegelijk prikkelt.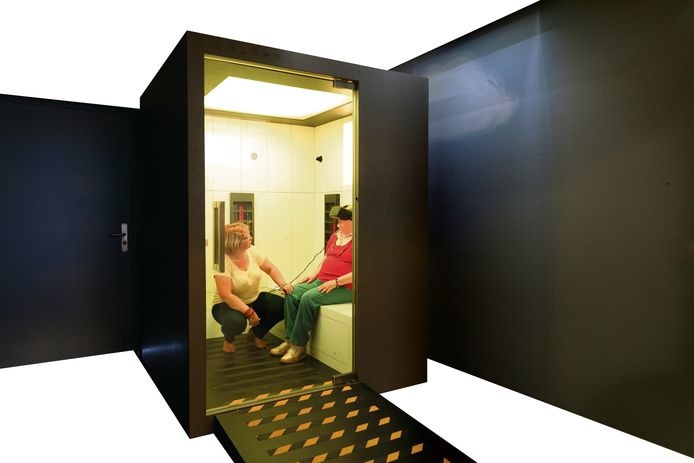 Toeval
De belevingscabine kwam bij toeval bij Philadelphia binnen, want ze werden niet voor de zorg bedacht. Fred Galstaun van Sensiks introduceerde de eerste op een Luxury Fair. Hij wilde een ruimte waar gespannen mensen een kwartiertje konden bijkomen, gebaseerd op een sauna, daarom lijkt-ie er ook nog zo op. Die harde bank van nu moet maar snel een zachte stoel worden, zeggen ze bij Philadelphia.
Fred had zelf behoefte aan ontspanning, toen hij met z'n eerste welnessbedrijf bijna op de fles ging. Twintig man de laan uit, schuldeisers aan de deur. ,,Ik lag op het strand in Scheveningen, voor het eerst was ik ontspannen en ik dacht: hoe komt dat eigenlijk? Niet alleen door het geluid van de branding. Ook door de zilte zeelucht, de temperatuursverschillen als een wolk voor de zon trok, het ritme van een klapperend touwtje aan de vlaggenmast; de optelsom, kortom, van alle zintuigen. Als je in de auto zit, zie je de omgeving wel, pas als je uitstapt ervaar je het pas. Dan gaat het van passief observeren naar actief beleven."
Dat beamen ze bij onderzoekscentrum TNO, dat bij de ontwikkeling betrokken is. ,,Als je steeds dezelfde dingen meemaakt, worden de hersenen niet meer uitgedaagd", zegt Victor Kallen, klinisch psycho-fysioloog. ,,Juist de combinatie van vijf verschillende zintuigen die tegelijk worden geactiveerd is dan de grote meerwaarde."
Dromen
,,Wij konden hier alleen van dromen", zegt Xenia Kuiper van Philadelphia, die vernieuwingen binnen hun zorg uitprobeert. Ze klopte bij Galstaun aan en samen ontwikkelen ze de bubbel verder. Hun ervaringen zingen behoorlijk rond: andere zorgverleners komen kijken, ook uit het buitenland zijn er verzoeken.
" Wij konden hier alleen van dromen" - Xenia Kuiper
Xenia ziet grote mogelijkheden. Met een 360 graden camera zijn filmpjes gemakkelijk zelf te maken. Zo laat je de bewoner over een dijk rijden, compleet met de geuren en de geluiden uit de jeugd. De eerste toepassing die ze er hier van maakten was voor een bewoner in een stervensfase. ,,Die is een enorme fan van Led Zeppelin." Aan de film van een concert werden de geluiden, de geuren, de hitte en de atmosfeer toegevoegd.
Woedeaanval
Ze zijn nu aan het kijken wat je in praktische zin met een ontspanningscabine kunt. Is het een middel om beter te slapen? Werkt het preventief, bij bewoners die een enorme woede-aanval kunnen krijgen? Helpt de 'bosbeleving' om die furie af te wenden?
Galstaun is alweer een fase verder. Kun je van alle gegevens - temperatuur, hartslag en hersenactiviteit - een meetmethode maken? De input is precies te koppelen aan de output, aan de reacties, zo zie je direct werkt en wat niet en daar kun je mee aan de slag. Een wiskundige is bezig de gegevens in een algoritme te vangen. ,,Als dat lukt kun je er emoticons aanhangen: een neutraal gezicht, een lachend gezichtje, of twee van die gezichtjes."
Tim hoopt dat het lukt. ,,In de groep met de zwaarste handicaps zijn mensen waar niemand contact mee kan leggen. Ze spreken niet, ze hebben geen gezichtsuitdrukking, ze zitten opgesloten in zichzelf. Bijna niemand ziet of ze iets leuk vinden of niet, ook hun ouders niet. Geweldig als je dat kunt meten."
https://www.destentor.nl/nunspeet/leny-73-komt-helemaal-tot-rust-in-belevingscabine~ac461667/