The Scores of Chaos is an immersive experience, commissioned by Muziekgebouw (Amsterdam 2018) as an homage to the musical genius of the contemporary Hungarian composer Ligeti.
His music featured in some of the most iconic scenes in Stanley Kubrick's work, making this collaboration groundbreaking for the history of the moving image.
Ligeti's fascination with the world of fractals, chaos and multisensory experience of music, has been the inspiration behind an imaginary trip into the world of his scores. Music becomes an immersive visual landscape, a doorway into the otherworldly beauty of mathematics, of our imagination, and the universe.
We took two of his most respected compositions and augmented them with two distinct immersive worlds. In the first part of the experience the user travels through Diablo's staircase, a complex piano piece which can only be mastered by the very best of pianists. In the archives of the muziekgebouw we found the original composition sketches including comments and corrections. With this amazing source material we build a virtual structure, to have you literally fly through the process of Ligeti. The piano play of Diablo's staircase is augmented by a choreography of lines, a metaphor for the complex vibrant power of the music piece; the staffs coming to live.
The second part of the experience features Ligeti's Lux Aeterna made famous for the general public by Stanley Kubrick when he decided to use it in his classic 2001: a Space Oddysee. Ligeti had a fascination for fractals, formulas that encode the infinite nature of the universe. For this second part we partnered up with Julius Horsthuis, an amazing fractal artist. The beauty of Lux Aeterna is brought to a higher level by Julius' abstract extraterrestrial worlds.
Finally, we created an appealing physical presentation of the VR piece. We placed five VR stations in a layout referencing a seminal scene from 2001: a space Oddysee. The installation attracted 800 people in the course of three days and has received extremely positive reviews from both Gyorgy Ligeti experts and people new to his work.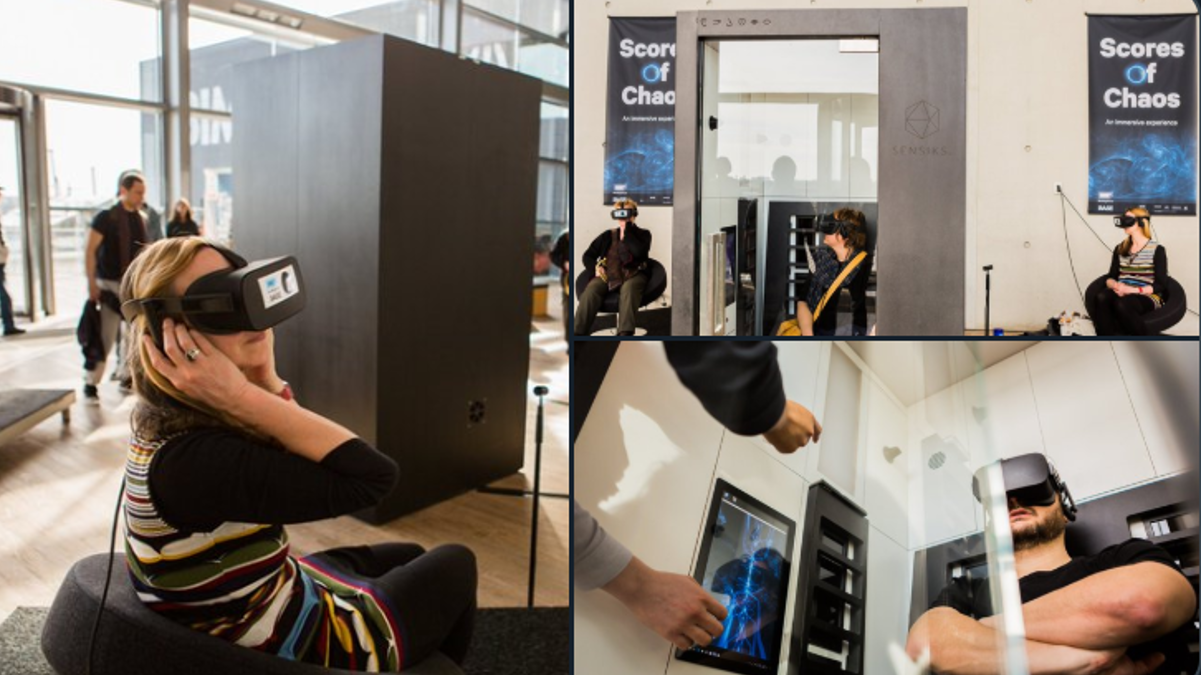 Source: https://xrbase.co/project/scores-of-chaos/