STATE STREET PIONEERING MENTAL HEALTH IN THE WORKPLACE WITH SENSORY REALITY

Canary Wharf Magazine London - 2018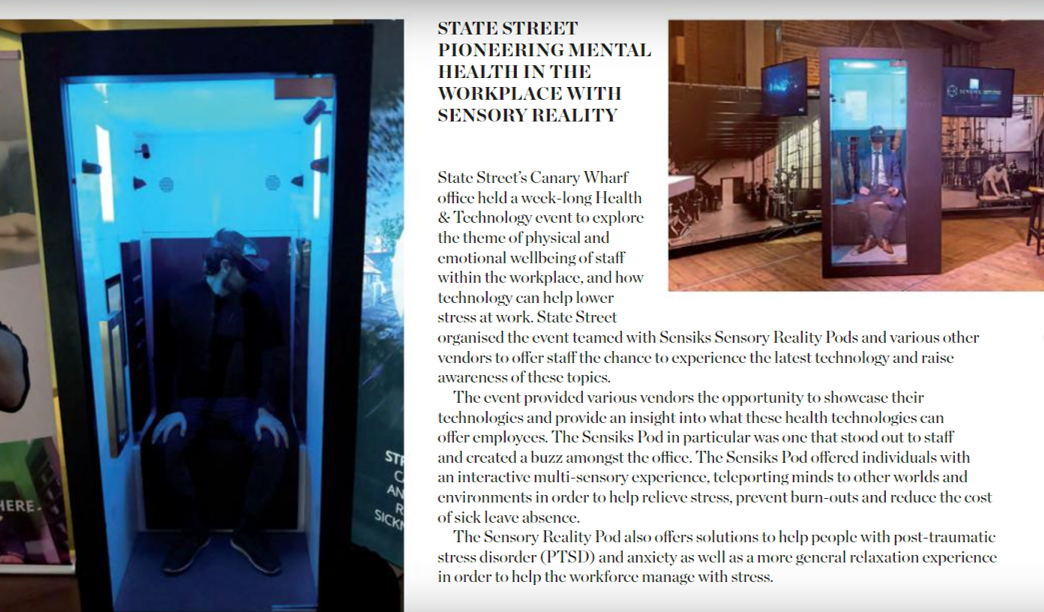 State Street Corporation is an American financial services and bank holding company headquartered at One Lincoln Street in Boston with operations worldwide. It is the second-oldest continually operating United States bank; its predecessor, Union Bank, was founded in 1792. State Street is ranked 15th on the list of largest banks in the United States by assets. It is one of the largest asset management companies in the world with US$2.511 trillion under management and US$31.62 trillion under custody and administration. It is the second largest custodian bank in the world.
The company is ranked 247th on the Fortune 500 as of 2019. The company is on the list of the banks that are too big to fail published by the Financial Stability Board.
The company is named after State Street in Boston, which was known as the "Great Street to the Sea" in the 18th century as Boston became a flourishing maritime capital. The company's logo includes a clipper to reflect the maritime industry in Boston during this time.
Source: Canary Wharf Magazine London - https://issuu.com/luxurylondonmedia/docs/canary_wharf_nov_18_-_lr