(Dutch Read)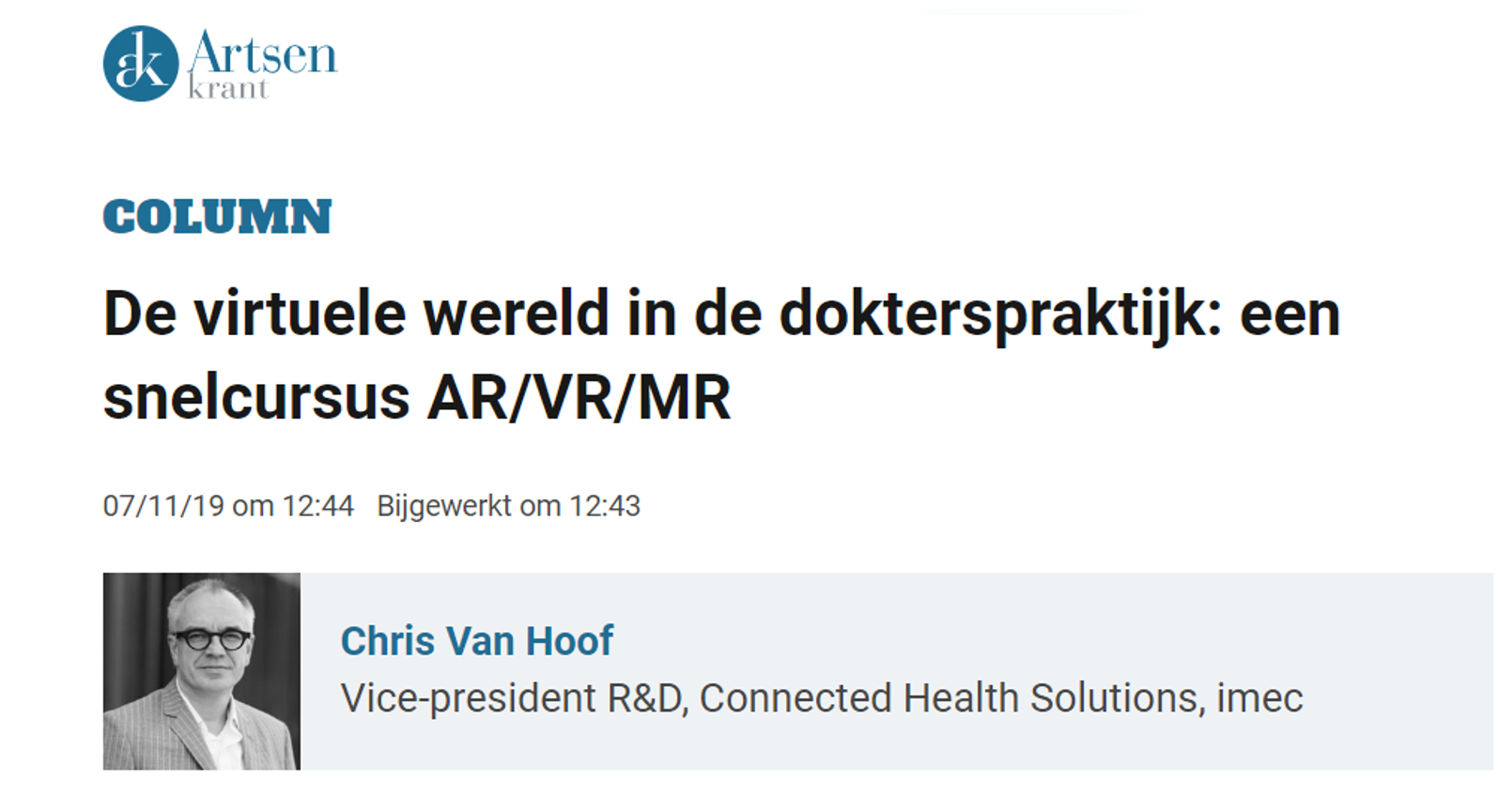 Augmented Reality, Virtual Reality, Sensory Reality, Mixed Reality... oorspronkelijk speelterrein van de game-sector, maar inmiddels ook ingezet voor meer wereldse toepassingen. Tijd dus om alweer een stap vooruit te kijken. Welke technologische evoluties zullen ervoor zorgen dat AR/VR/MR/... nóg meer toegevoegde waarde krijgen, bijvoorbeeld in de gezondheidszorg? In [mijn andere blog] ga ik daar dieper op in. Maar eerst even een korte beschrijving van waar we eigenlijk over praten.
Snelcursus virtuele realiteit
Virtual Reality (VR) is een technologie waarbij je je onderdompelt in een volledig virtuele wereld. Hiervoor moet je deze virtuele wereld kunnen projecteren en dat is meestal door een VR-bril die alle buitenlicht afschermt. Je bewegingsvrijheid is daarbij beperkt, omdat je natuurlijk niet tegen échte objecten wil aanlopen terwijl je door deze driedimensionale omgeving navigeert. Augmented Reality (AR) is een combinatie van virtuele én echte beelden. Je gebuikt daarvoor je smartphone of tablet. Of een speciaal ontwikkelde bril (bv. Google Glass, Microsoft Hololens...) waar je doorheen kan kijken, maar die ook virtuele beelden en informatie weergeeft. Over Augmented Reality verscheen al eerder een boeiende column in Artsenkrant: 'Virtueel gewriemel', van de hand van Tom Van Daele. Recent wint ook de term 'Mixed Reality' (MR) aan populariteit: een verlengde van AR waarbij virtuele objecten sterker verankerd zijn in de echte wereld. Zo kan je in Mixed Reality een virtuele bal verstoppen onder je bureau en is die enkel zichtbaar als je je bukt. Als vierde domein in dit lijstje, zou je Sensory Reality (SR) kunnen noemen: een term geïnitieerd door een Nederlandse start-up genaamd Sensiks die 'belevingscabines' op de markt brengt. Kort uitgelegd zijn dit cabines waarin al je zintuigen vanuit drie dimensies geprikkeld worden (beeld, geluid, geur, warmte, wind...), zodat je bijvoorbeeld écht het gevoel krijgt dat je op het strand aan het zonnen bent terwijl het buiten winter is.
Toepassingen in de gezondheidszorg
Het potentieel voor de gezondheidszorg is in elk geval enorm. Zo biedt het UZ Gent al revalidatietrainingen aan met ondersteuning van VR, en berichtte de media vorig jaar over heel wat VR-toepassingen in de zorg, waaronder Oncomfort, een Belgische start-up die VR inzet om bijvoorbeeld patiënten tot rust te brengen voor of tijdens een ingreep. Virtual Reality is ook erg ingeburgerd in het opleidingscircuit. Je kan er bepaalde ingrepen en scenario's vooraf mee simuleren tijdens de training van artsen en verplegend personeel. Augmented Reailty is dan weer bij uitstek geschikt ter ondersteuning tijdens een ingreep. Bijvoorbeeld door bepaalde anatomische informatie te projecteren op de relevante lichaamsdelen van de patiënt. Ik las recent nog mooie overzichten van dergelijke veelbelovende toepassingen op het online platform Healthcare in Europe en in een blog van Visible Body, het bedrijf achter de Human Anatomy Atlas. De vraag lijkt mij dan ook niet langer óf je als arts met deze technologie in aanraking gaat komen, maar wel wannéér...
Chris Van Hoof (PhD, KU Leuven 1992) is vice-president R&D, Connected Health Solutions bij imec en leidt teams op drie verschillende imec sites (Eindhoven, Leuven en Gent). Imec's Connected Health Solutions teams maken oplossingen voor het monitoren van patiënten met chronische aandoeningen en voor preventieve geneeskunde met behulp van virtuele coaches.
Bron: https://www.artsenkrant.com/info/de-virtuele-wereld-in-de-dokterspraktijk-een-snelcursus-ar-vr-mr/article-column-42595.html